Last updated on: June 15, 2022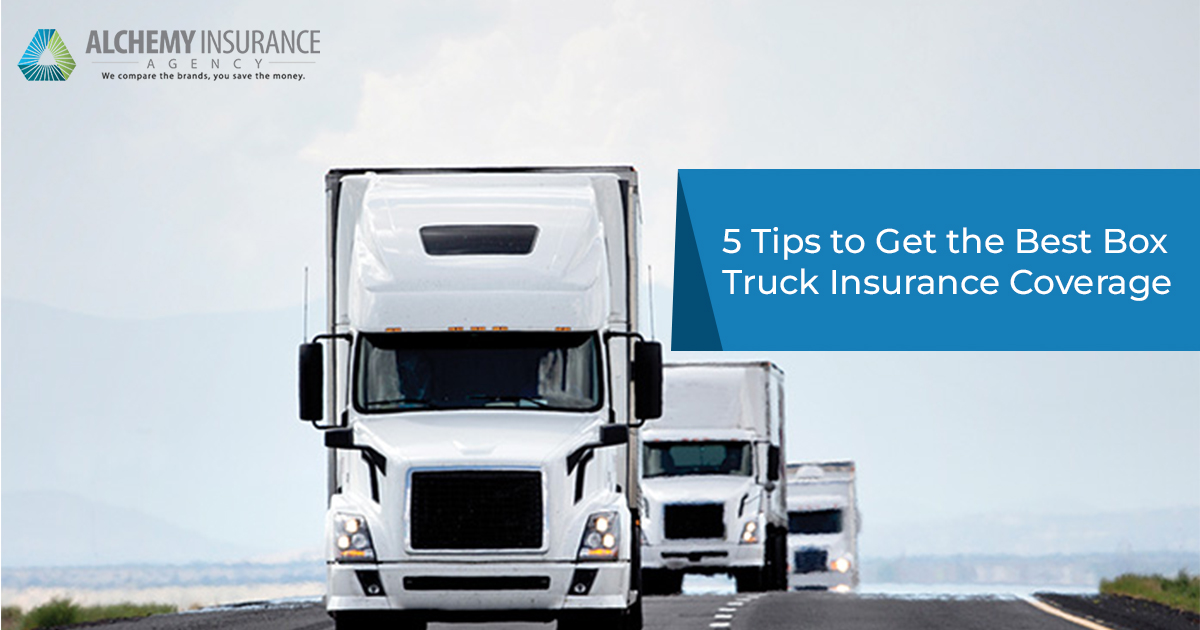 As a trucking business owner, you've got to be smart about making sure the proper insurance protection is in place right from the start.
Cover all of your bases before conducting business to avoid winding up in a situation that could potentially cost you undue personal, professional, and financial hardships down the road.
If you own a trucking business, ask yourself—do you have the box truck insurance coverage you need? If you're not sure, read on to learn more about what this kind of coverage entails and why you need it.
What is box truck insurance?
The term box truck insurance refers to coverage for large, business-use vehicles with a typically square shape—"box" shaped trucks.
Box truck insurance refers to commercial truck insurance geared specifically to these types of vehicles, which encompasses a variety of business uses.
Examples of these trucks include those used to transport larger cargo like moving trucks, furniture company trucks, delivery trucks, appliance trucks, cargo trucks, and more.
Box truck insurance could also include large vehicles that are used to transport refrigerated goods (such as food and other perishables).
Why should I buy box truck insurance?
Now that you've brushed up on the basics of what the term box truck insurance refers to, we'll cover the most important reasons for purchasing this type of coverage.
Individuals and/or commercial trucking business owners typically purchase this type of coverage to protect themselves—as well as their employees, vehicles, and goods—against damages and injuries that are potentially extremely costly.
This type of commercial truck insurance is important because you'll be protected in the following areas:

Liability—if your business is found liable for an accident, the liability will be covered by your policy.
Medical expenses for any injuries that may occur to truck/vehicle occupants
Coverage for uninsured vehicles and uninsured motorists
Physical damage loss to your business vehicles
As long as the vehicles in question are being used primarily for work purposes, they should be covered by your box truck insurance policy.
Top 5 box truck insurance tips you need to know
1. Shop smarter, not harder!
Alchemy Insurance Agency is the top-rated commercial trucking insurance provider in Pennsylvania for a reason—starting with the fact that they offer dependable coverage at unheard of rates.
In fact, you can save up to 15% on box truck insurance when you work with skilled, knowledgeable Alchemy agents.
Forget wasting time calling multiple insurance carriers to get quotes, only to find yourself growing more frustrated and confused by the minute—Alchemy does the rate shopping for you through their network of the top, most trusted names in the insurance game.
2. Leave the heavy lifting to the pros.
When you enlist Alchemy Insurance Agency's team for the job, they make your part very easy.
They will work to compare rates from multiple carriers—the top names in the business—to find you the best rate and perfect policy that suits your company's box truck insurance needs to a "t."
Cutting out the middleman means you can rest assured that your Alchemy agents are truly working for you—with nothing but your best interests in mind.
3. Don't be afraid to ask questions.
At the end of the day, your good name and livelihood are at stake. Don't hesitate to ask the important questions, or to inquire about anything that seems unclear.
Luckily, the agents at Alchemy work diligently to make sure everything is presented to you in a clear, cohesive manner—you'll never feel left in the dark when you work with the best insurance agents in the business.
4. Get all of your coverage ducks in a row.
Being a successful business owner, no matter the size of the operation, means leaving no stone unturned.
Don't let your insurance quest stop at commercial truck insurance—ask your agent about what other types of coverage you could benefit from as well.
5. Present yourself as a package deal for added savings.
Explore your options for bundling your commercial truck insurance and box truck insurance with other types of coverage.
Bundle deals save you money and streamline the insurance provider process.
When you have a more simplified process in place, you'll have less hoops to jump through when a claim is filed—saving you money in addition to saving your sanity.
Make life a little easier when you reach out to the skilled, knowledgeable professionals at Alchemy Insurance Agency.
Alchemy Insurance Agency is the top commercial insurance agency in Pennsylvania for good reason—they work tirelessly to compare policies from multiple carriers to connect you with the best box truck insurance needs.
Simply call, email, or visit https://alchemyinsurance.com/ to get connected with an agent right away—you won't regret it!